Carpet Cleaning in Manassas
The primary reason why many people love carpets, apart from their softness and warmth, is that they need less maintenance and upkeep than hard surface floors. Generally, regular vacuuming and routine deep-clean-scrubbing are all that's needed to give your carpet that fresh and new look. Despite your efforts, your carpet will sooner or later become a victim of dust and whatever may be stuck on the bottom of your shoes. Carpets accumulate a lot more dirt than all other furnishings in the house because they experience the most direct foot traffic. This also contributes to wear and tear. So it's very critical to keep it clean, not only for a new look, but also to make it serve you longer.
It's always recommended that carpets be cleaned by an expert either once or twice a year. However, it depends on the amount of foot traffic in your home. You should do vacuuming regularly at least once a week between successive professional cleanings.
Tough stains on your carpet usually come from coffee spills, ink, dirt, mud, pet stains, and red wines. In many instances, these stains are removed professionally by the hot water extraction technique.
Failure to clean your carpet frequently results in wearing of the carpet fibers facilitating faster deterioration. On the other hand, bacteria may create odors that affect the indoor air quality, posing a risk to the occupants with respiratory complications.
When you are selecting a carpet cleaning company for your business or home, it's essential to understand the distinct cleaning tactics used by the different companies.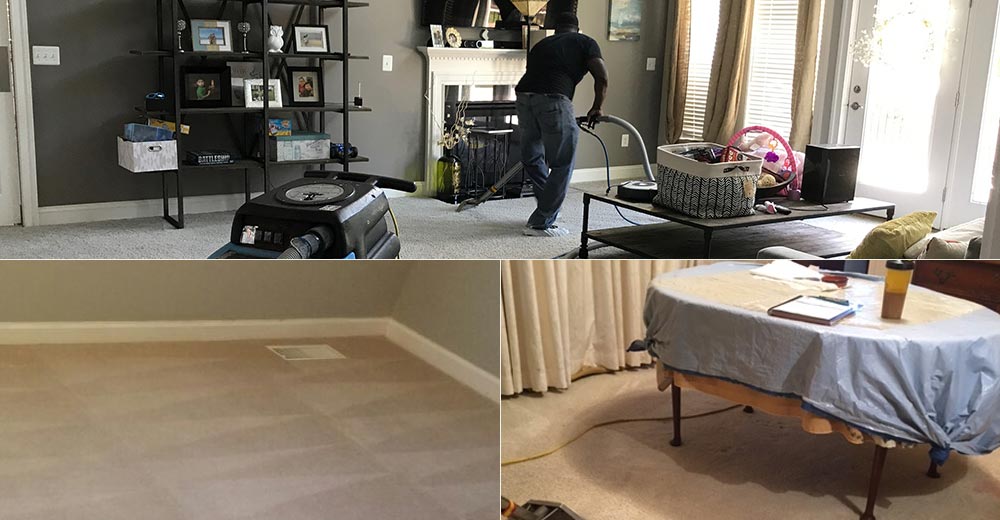 Professional Carpet Cleaning Services
Many professional cleaning companies have various cleaning tactics that are employed when a cleaning need arises. You may be surprised to know that some require water or chemicals while others don't.
Here is a simple list of the options we use at Tulip Carpet Cleaning of Manassas:
Hot water extraction - We have powerful steam cleaning machines with long hoses attached that spray very hot water on your carpet. The dirt and debris stuck on the carpet fibers are agitated and sucked out. Although you can get the machine and clean the carpet yourself, we encourage you to call us for the job and see the reasons why professional cleaning is widely recommended.
Absorbent dry compound - It uses no water, so there's no dry time to keep you waiting, and it's preferred for a quick clean. We sprinkle this dry compound with the detergent on the carpet and vacuum it out.
Shampoo/Foams - A cleanser is sprayed on the carpet to agitate the embedded dirt and then vacuumed out.
Bonnet/Pad - A technique that requires an oscillating machine with a damp pad that's driven into the carpet fibers to loosen debris and dirt.
A carpet in bad condition makes a room appear dirty and outdated, which can embarrass you in front of your guests. A cleaning technician does an excellent job in keeping the fibers looking new and improving the overall aesthetics of the room.
For example, during winter, most carpets accumulate a lot of dirt and debris. If you don't want to clean during the winter, the spring is the ideal time to have your carpet cleaned by a certified specialist to get back to its normal condition. Proper cleaning of your carpet typically reduces the traffic-lane effect and completely removes all dirt, dust, and debris.
Another notable advantage of professional cleaning services is that they remove all the dark areas of the carpet and restore its fibers.
The Best for Carpet Cleaning
Consistent maintenance and professional annual cleaning improve the appearance and lifespan of your carpet. This, in turn, results in a healthier environment in your home. Tulip Carpet Cleaning of Manassas provides quality carpet care services to any individual interested in having their carpets cleaned professionally.
We provide residential carpet cleaning services at a pocket-friendly price. Also, our trained and experienced technicians do office carpet cleaning as well, so we have a wide range of customers around Manassas.
Our cleaning methods are safe for all carpets. They are widely preferred for commercial offices that operate 24/7, and the operations in the offices need not be disrupted during the cleaning of the carpets.
At Tulip Carpet Cleaning of Manassas, we have updated equipment and safe and effective cleaning products for the best results. The hot water extraction technique we employ leaves your carpet free of stains and dirt at all times. The high temperature of the hot water is ideal for killing allergens and bacteria, leaving your carpet sanitized completely.
We are experts in offering carpet and upholstery cleaning services to all our esteemed customers. After cleaning your carpets, you won't hesitate to say that we are simply the best carpet cleaners in Manassas, based on the outstanding results. Contact us any day of the week at 703-659-0754 and book an appointment for your home. You can enjoy all the benefits of professional services from Tulip Carpet Cleaning of Manassas.