Mold Testing in Manassas
Molds are microorganisms that can grow in moist places. Damp spaces in your home, like trim around the windows and bathroom walls, can experience quick mold growth. In terms of appearance, mold may appear as a furry growth, specks of white, black, brown, green or orange, or a black stain. Mold growth is dangerous for your home as well as the people living in it. Therefore, you should take the right preventive measures in a timely manner to deal with the issue.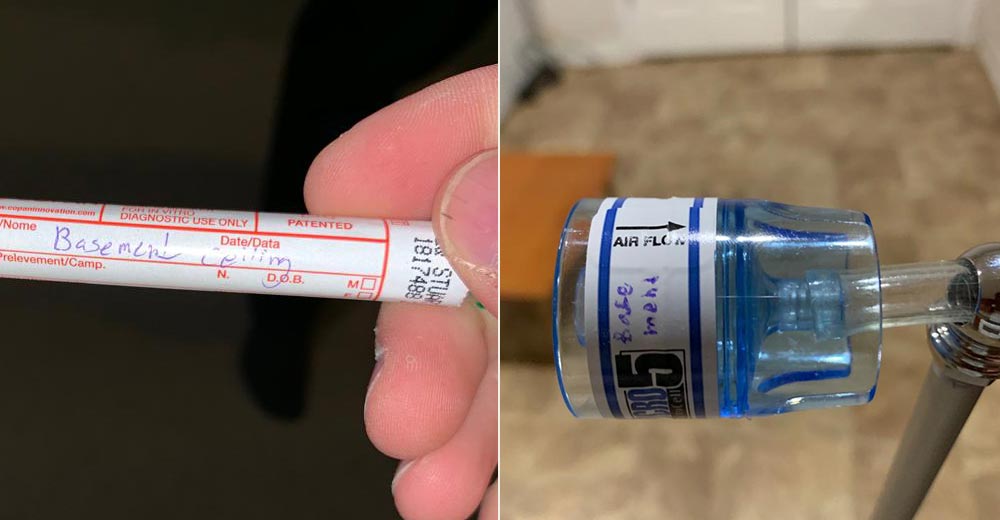 What Does Mold Do To Your Health?
Along with your home, mold growth can have serious health complications, especially for people who have breathing issues and a weakened immune system. Many people are sensitive to mold and when these individuals are exposed to mold, they experience the following symptoms:
Running or stuffy nose
Itchy or red eyes
Redness on the skin
Wheezing
These symptoms are commonly seen in people with mold allergies, lung conditions, asthma, or any breathing conditions. In severe cases, people can experience fever and shortness of breath.
What Does Mold Do To Your Home?
These microorganisms feed on organic materials like paper, wood, fabric, and even glue. They eat these materials, causing them to rot and fall. The materials mold eats include -
Drywall
Wallpaper
Carpet
Ceiling tiles
Wooden studs in walls
Floorboards
Moreover, if you leave the mold growth unchecked, it can cause floorboards caving, the collapse of ceilings, and walls falling down. Many materials in your home become damaged to a point there will be no scope for repair. You are likely to find mold in areas like attics, bathrooms, and basements. But you can also find mold in HVAC systems that translate to heating, ventilation, and air conditioning. Air blowing from the moldy ducts can disperse mold throughout your house, creating serious issues.
Importance Of Mold Testing
The mold testing process involves taking a sample from surfaces in your home or collecting an air sample. The mold inspectors examine the sample to find out the kind of mold that is found or able to grow in the tested area. Air samples can be taken as well as tested in different ways. Spore trap sample is the most common way of mold testing. There are many instances where you should perform a mold test.
If you're buying a new house, it is recommended that you do mold testing. If the report reveals a high level of mold spores, you need to rethink the purchase deal.
Additionally, mold testing is a reliable way of finding out the growth of the mold if you feel that there is growth but cannot see the same.
Another area where mold testing is needed is when you justify your insurance company to get compensation for the damages to your property.
If you are selling or renting your property, then tenants or buyers may be interested in knowing the air quality of the house. A mold test is an important process of testing.
Difference Between Mold Inspection And Mold Testing
Mold testing and mold inspection are often used in the same context. However, both these notions are different in the core ideas. Mold testing is a process performed to determine the type of mold growth present in our home and the number of spores in the air. A mold test is basically done to ascertain the overall quality of the air in your house.
On the other hand, mold inspection is also known as mold assessment. This is a process that is performed to spot the mold in your home. Many times, the mold is not visible; these are situations where mold inspection becomes important.
Test And Inspect Mold With Tulip Carpet Cleaning of Manassas
If you have decided to have mold testing or mold inspection done in your house, then you should consider choosing a reliable and credible professional company. Tulip Carpet Cleaning of Manassas is a leading provider of mold testing and mold inspection services in Manassas. There is a dedicated team that works to test and inspect your living space and provide you with detailed and accurate information about the mold growth in your house. When you get your house tested and assessed at the right time, you can reduce the consequences and move towards the mold remediation process in a timely manner.
Our Services
Mold Testing

Mold testing becomes necessary in a number of instances, and you need a reliable professional to get it done effectively. At Tulip Carpet Cleaning of Manassas, we have board-certified inspectors who will come to your property and collect the samples. The collected samples will then be taken to our dedicated testing labs. Subsequently, a detailed report is presented to the client for their understanding. We offer different kinds of mold testing, such as swab testing, mold spore air testing, or bulk testing.

Mold Inspection

We offer professional mold inspection services to our clients. Our experienced and skilled inspectors start the assessment process by interviewing you and understanding your concerns. Thereafter, we leverage various methods to thoroughly assess your premise to find the growth of mold.
The years of experience has allowed handling projects in a different location, property size, and complexities. We carry out multi-point inspections both internally and externally to find the mold growth, unnatural level of humidity, water intrusion externally. Additionally, our interior inspections include taking the humidity and temperature readings of every room, thorough inspection of the HVAC system, and a visual check for mold.
Why Consider Tulip Carpet Cleaning of Manassas?
A certified team of mold inspectors who can perform exceptionally in every situation.
A dedicated lab where experts perform mold testing and inspection.
Services backed by years of experience and expertise.
A wide range of services offered at affordable rates.
Tulip Carpet Cleaning of Manassas is dedicated to providing you with thorough mold testing and mold inspection services. So if you want to know whether or not your property has mold growth and what kind of mold is growing, then get in touch with us today at 703-659-0754, and let us make your living space clean and healthy.