Upholstery Cleaning in Manassas
Apart from the house and car, your furniture is probably the most valuable investment that you'll make throughout your entire life. As time goes, the upholstered furniture in your home can start looking dull and stained. In fact, you will be surprised by how dirty it has actually become if you've never cleaned it before.
With the help of a professional cleaning service, like Tulip Carpet Cleaning of Manassas, you will be able to fully restore the freshness of your upholstery pieces. If you're interested in learning more, then be sure to read on!
Why Choose Us?
Highly Trained Technicians
All of the technicians that work for Tulip Carpet Cleaning of Manassas are highly educated, are polite towards the customers, and have years of continuous experience.
Professional Cleaners
In the whole upholstery cleaning process, we only implement eco-friendly cleaners that work extremely well on all types of fabric, as well as up-to-date extraction and vacuuming machines.
24/7 Customer Cleaning Service
Our friendly customer support is available 24/7 throughout the entire week. They will gladly assist you with any of your questions or problems that are related to upholstery cleaning.
Ready For Use Within Hours
The entire process should take less than an hour, and drying about 4 hours on average. With the help of increased ventilation like the air blowers, the time can be shortened so that you will be capable of using your furniture as soon as possible.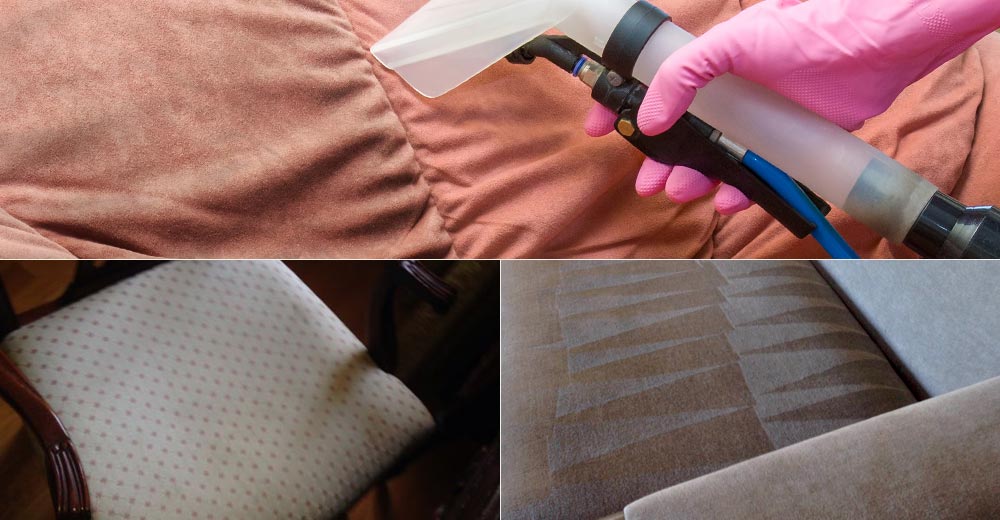 What is the process of upholstery cleaning?
We have over 10 years of experience in upholstery cleaning and are familiar with the whole cleaning process. The pieces of equipment, up-to-date methods, and cleaning solutions we employ are what separates us from all the others and make us the best cleaning service in Manassas.
Pre-Cleaning Inspection
The first thing that we will do is schedule an appointment that will start with an inspection. We don't jump straight in and start cleaning your furniture without taking a closer look at the type of upholstery (whether it's leather, polyester, etc.), physical defects, and visible stains. This will significantly help us to pick the proper cleaning method and provide you with a reasonable estimate for the job.
Once you agree, we will be able to proceed with the cleaning immediately.
Vacuum Cleaning
If there is visible particles, vacuuming before the cleaning can be helpful. This is done with a high-filtration commercial vacuum machine particularly intended for deep down soil removal.
Pre-Spray
Next up, the technician will apply a pre-conditioner, which is friendly to the environment and free of toxins. This will help lift all the dirt and debris from the furniture which will assist in maximizing the effectiveness of the extraction process.
High-Pressure Extraction
The extractor sprays high-pressure detergent into the fibers to promptly and effectively rinse away soiling. At the same time, the specialized equipment also removes the liquid, along with the dirt that has been removed. Throughout this process, the fabric is continuously inspected to guarantee that the whole cleaning process is done seamlessly.
Further Stain Removal
If there are any visible black points on your upholstery, our technicians will try to treat them with stain cleaners.
Drying Process
Once we're done with the upholstery cleaning, the furniture should be dry again in just a few hours. When required, we utilize strong air blowers to greatly reduce the drying time. This will also allow you to arrange your personal items back as soon as possible.
Final Inspection
Once everything is completed, we will invite you to join us in our final inspection of the work and ensure that you are 100% satisfied with our cleaning service.
We clean all types of upholstered furniture
Armchairs
Dining chairs
Leather furniture
Love seats
Recliners
Sofas
Claim Your Free Estimate Right Now!
What on earth are you still waiting for? Contact Tulip Carpet Cleaning of Manassas today for all of your residential & commercial upholstery cleaning needs. The entire inspection process is free of charge, so you won't have to pay a single penny for the estimate. You will be able to call us and some of our members will get back to you.