Water Damage Restoration Services in Manassas, VA
Water damage needs immediate attention as flooding, burst pipes, or leaking faucets can be some of the most destructive and messy problems for a homeowner. If water damages persist, they can cause serious electrical hazards, as well as encouraging the growth of health hazards like molds. Delaying repair may cost you significantly as excess moisture indoors can damage furnishings and the building structure. Tulip Carpet Cleaning of Manassas understands the urgency of water damage emergencies and always responds fast to the client calls when the worst happens.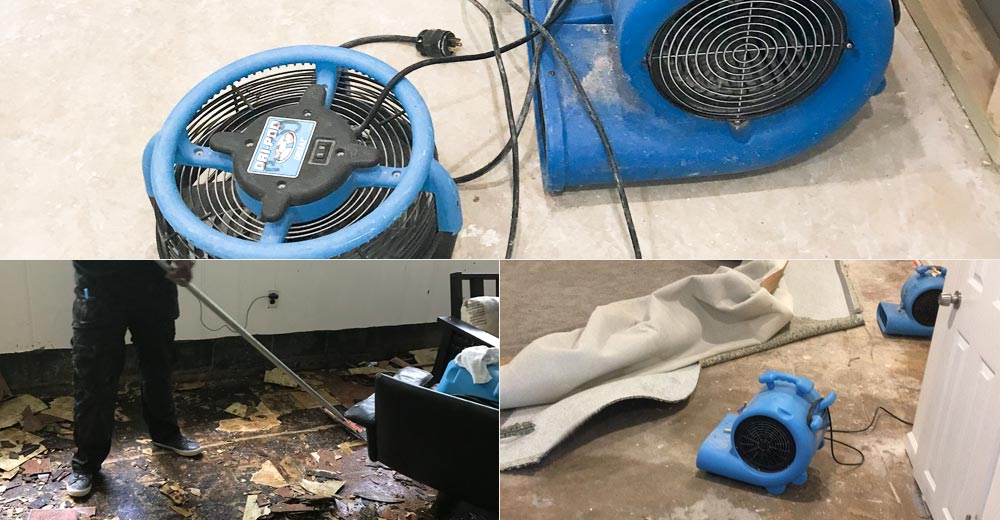 What Causes Water Damage
Broken pipes or hoses, clogged toilets, plumbing leaks, foundation cracks, leaking roofs, and moisture behind the walls are some of the causes of water damage in homes. Regardless of the cause, a quick response is crucial for the restoration of your walls, floors, and personal property in general. The longer you wait, you risk increased damage from secondary causes like mold, which can start to grow within 24-48 hours of an area becoming wet.
At Tulip Carpet Cleaning of Manassas, the rapid response teams are alert 24 hours every day of the year and arrive on site within the shortest time possible. The experts in water mitigation are well- equipped with all the right tools for exceptional service.
What is Water Mitigation
Water mitigation refers to the damage prevention or reduction process, which may be due to leaking roof, flooding, or any other water-related problem. Quick intervention from professionals will prevent unnecessary additional costs and damage.
What to do as You Wait for Help
Remove any electrical gadgets from the affected area, or that may get wet. Only do so if it is safe to do so.
Move art objects, paintings, or other valuable items to a dry and safe location.
Use mops or blotting to remove as much water as possible.
Remove any loose area rugs, floor coverings or any loose clothing lying down.
Lift up long curtains and draperies and suspend them on a coat hanger or on the drapery rod so that the bottom of the curtain is raised from the floor.
Take wet cushions to dry, use aluminum foil under the feet of wood furniture to protect them from damage, and wipe furniture.
Open closet doors, drawers, and cabinets to enable drying.
Keep dry books and papers out of the way on shelves until specialized drying is complete.
Get Your Restoration Started Right
Water damage can seem daunting, but it doesn't mean that your home or business is completely destroyed. Your walls, floors, and precious possessions can be preserved and restored with rapid response in repairing water damage. A prompt response can also prevent the need for mold remediation, which is a delicate job that requires experts with the right tools. We work locally with Flood Damage Pro as our partner to make sure our customers enjoy a prompt, professional response for their water damage emergencies. Contact our professionals in Manassas, Virginia for a team with expertise, knowledge, and proven water damage restoration techniques.
Water Damage Restoration Process
Though every water damage incident is different in its own way and calls for a tailor-made solution, the process and steps are similar. Here is a standard process for handling a water damage restoration emergency.
Damage Inspection and Assessment
Each restoration we perform begins with a thorough inspection of the site, including a damage assessment. Our experts determine the level of damage to get the most effective solution and so they can advise the customer on the water damage repair costs.
The first step that professionals take is to stop the water source and check any case of contaminated water. For pipe leaks, this may mean turning off the water main to the house. Plumbing repairs must be completed promptly for a successful restoration.
Water Extraction/Removal
Using truck-mounted vacuum and powerful pump vacuum units for water extraction, professionals remove water from your property and home. This reduces the drying time considerably, preventing secondary water damage to home and mold formation.
Drying and Dehumidifying
Once the water is removed, floors and walls may still be wet to the touch, though it may look dry at first. This is because building materials retain water as they are porous naturally. In some cases, our specialists will remove these wet materials, as they are inexpensive and easy to rebuild. Using specialized equipment like dehumidifiers and industrial air movers, professionals remove any remaining moisture in the water damaged structure. They will then use moisture meters to ensure all the materials reach drying goals that are acceptable.
Cleaning and Sanitizing
You will also notice that after clearing the water, your furniture and other belongings may need professional water damage cleaning. Professionals will clean and sanitize furniture, rugs, and carpets. After the removal of water and flooding, experts will embark on odor removal and deodorization treatments.
Carpets can particularly cause many problems without good care after water damage. Short piled carpets need bonnet cleaning, while hot water extraction will work for all carpet types. Depending on the damage, deluxe precondition and rinse will restore water damaged carpets.
Restoring
In the final stage of the restoration process, our team will rebuild our property, replacing removed insulation and drywall, re-laying carpet, and adding a fresh coat of paint over the new repairs. In short, we try to make your property look the way it looked before the damage ever occurred.